As we just past the one year anniversary of one of the top military, political and budget blunders of history. We left $84 Billion of arms that are now showing up around the world. It was blamed on the prior president, but history shows that all the plans by the previous president were ignored, yet they blamed him. We dropped everything and left. We left our respect, our weapons, our faith in the military and a lot of other things there that day.
I for one, want a tax break for this. It was unnecessary to withdraw the way it was done and was a rudderless action. It will go down with Viet Nam as our worst military actions. In both, the people left behind suffered the most by the brutal people who ruled.
I read that it's likely that we will have to go back to Afghanistan. That area is destabilized and the 12th century barbarians are taking over again.
China has moved it to take over the area for their expansion against India. There are a lot of rare earth elements they can harvest for cheap. There are plenty of poppies for drugs. China moves a ton of Fentanyl into the US over the Mexican border. They now have an endless supply to make it with.
Here is a list of what was left. We get to fight against our own technology when we have to send troops back in.
It was a royal screw up.
-2,000 Armored Vehicles Including Humvees and MRAP's
-75,989 Total Vehicles: FMTV, M35, Ford Rangers, Ford F350, Ford Vans, Toyota Pickups, Armored Security Vehicles etc
-45 UH-60 Blackhawk Helicopters
-50 MD530G Scout Attack Choppers
-Scan Eagle Military Drones
-30 Military Version Cessna's
-4 C-130's
-29 Brazilian made A-29 Super Tocano Ground Attack Aircraft
=208+ Aircraft Total!!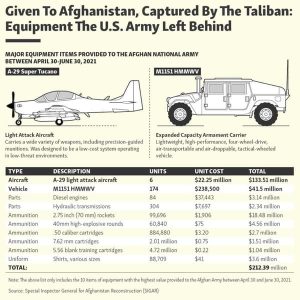 At least 600,000+ Small arms M16, M249 SAWs, M24 Sniper Systems, 50 Calibers, 1,394 M203 Grenade Launchers, M134 Mini Gun, 20mm Gatling Guns and Ammunition
-61,000 M203 Rounds
-20,040 Grenades
-Howitzers
-Mortars +1,000's of Rounds
-162,000 pieces of Encrypted Military Communications Gear
-16,000+ Night Vision Goggles
-Newest Technology Night Vision Scopes
-Thermal Scopes and Thermal Mono Googles
-10,000 2.75 inch Air to Ground Rockets
-Reconnaissance Equipment (ISR)
-Laser Aiming Units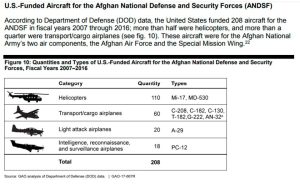 -Explosives Ordnance C-4, Semtex, Detonators, Shaped Charges, Thermite, Incendiaries, AP/API/APIT
-2,520 Bombs
-Administration Encrypted Cell Phones and Laptops ALL operational
-Pallets with Millions of Dollars in US Currency
-Millions of Rounds of Ammunition including but not limited to 20,150,600 rounds of 7.62mm, 9,000,000 rounds of 50.caliber
-Large Stockpile of Plate Carriers and Body Armor
US Military HIIDE, for Handheld Interagency Identity Detection Equipment Biometrics
-Lots of Heavy Equipment Including Bull Dozers, Backhoes, Dump Trucks, Excavators
Hat tip by Ronald E. Yates