Being woke doesn't make you smart. Any hint of being elite and in this case being intelligent just got flushed down the pool for the Ivy's.
The statement below was released about the biological male absolutely kicking ass in the pool, breaking women's records and losing only to another gender transitioning walking mental case pretending to be a guy. It is a well known fact that this man was also kicking ass among men only a couple of years ago. Any look into the record books can see the difference in times between the two sexes in any event.
Lia Thomas finds support from Penn, Ivy League ahead of weekend meet
Lia Thomas, a transgender swimmer who has been dominating the pool for the University of Pennsylvania this season, found support from the Ivy League and the school ahead of the Quakers' meet against Yale and Dartmouth this weekend.
Thomas has been wrapped in controversy for her prowess in swimming competitions this season. She previously competed as a man for two years on the school's men's team, and her success this year renewed criticism over allowing transgender women to compete against biological females.
But regardless of the parental outrage and some annoyance from her teammates, Thomas received support from the conference and the Quakers ahead of the important tri-meet on Saturday.
"Over the past several years, Lia and the University of Pennsylvania worked with the NCAA to follow all of the appropriate protocols in order to comply with the NCAA policy on transgender athlete participation and compete on the Penn women's swimming and diving team. The Ivy League has adopted and applies the same NCAA policy," the conference said in a statement Thursday.
See the tweet below:
The Ivy League releases the following statement of support regarding Penn's Lia Thomas' participation on the women's swimming and diving team. 🌿 pic.twitter.com/wdEDW4ud5O

— The Ivy League (@IvyLeague) January 6, 2022
Here's more:
Statement regarding our women's swimmer, Lia Thomas. #FightOnPenn pic.twitter.com/lvrnBbfeEr

— Penn Quakers (@pennathletics) January 6, 2022
Harvard Athletics stands with Penn Athletics, and the Ivy League, in the support of all student-athletes and in rejecting hate and transphobia in our community. https://t.co/6Gw0PSHuTu

— Harvard Athletics (@harvardcrimson) January 6, 2022

source and more here
For those of us who know the actual difference between men and women it just doesn't make much sense. Physiology, puberty, testosterone and body composition separate them.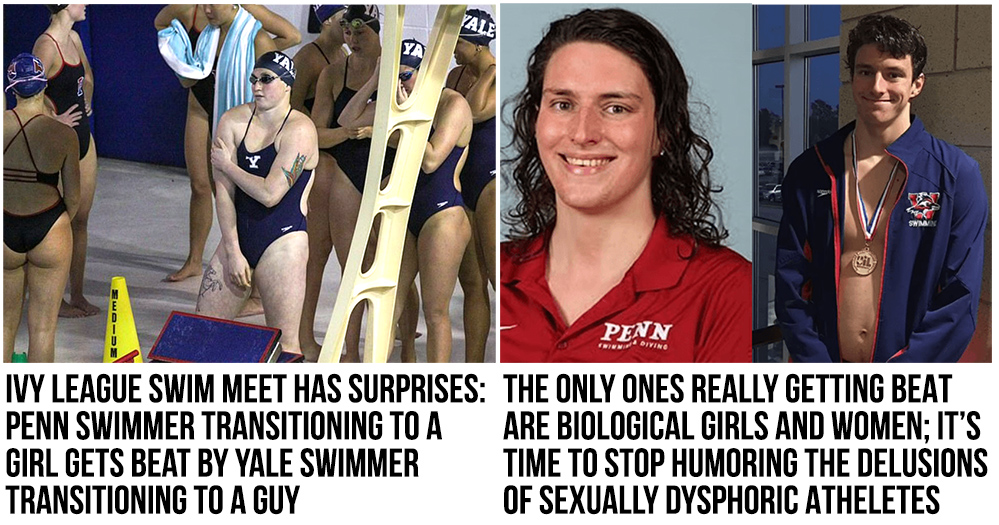 That the Ivy League is standing behind this just goes to show you that you shouldn't waste money sending your kids to these places lead by people who won't recognize the truth.
Pretend all you want, but I'm not buying it. Basic biology and any DNA test will show you that there is XX and XY genes, that's all. You can change your appearance, but not your sex.
As Forrest Gump said, stupid is as stupid does.
I'm sure some of the woke will do what they do best, try to silence me because I point out the truth and it hurts their agenda. Even if they do silence me, it's not going to change any facts that are here. It just goes to show you that when the woke can't win against facts, they try to shut down the conversation to hide the truth.