For people trying to get a job or increase business, it might be a valuable platform.
Unfortunately, it is still social media that is trying to be politically correct. I ran across this article so that you get a feel for what Cringe is.
Why LinkedIn? Just, why?
One of the funniest running jokes on Twitter is people trolling cringey LinkedIn newsfeed content: humble brags, faux inspiration, hustle porn, buzzwords galore and more.
A Twitter search for "linkedin cringe" returns an endless scroll of hilarity:
Here's a representative tweet that blew up last week. Someone posted a photo of a "resilient" tree, which prompted a perfect response that notched 430k+ likes: "Gonna be hell when LinkedIn finds out about this tree."
What is in the DNA of LinkedIn that leads to such predictably cringe content?
To answer the question, I read a bunch of forums, articles and great insights from the LinkedIn Engineering Blog. I think the cringe is due to 3 factors:
The personality: What LinkedIn asks you to be?
The customer: Who is actually paying LinkedIn?
The algorithm: What drives engagement?
The Personality
My least favorite version of Trung is "CV Trung". By this, I mean the way I write about myself and career on my resume.
Why? Because CV Trung is a knob.
Here are some actual bullet points from my most up-to-date resume, circa 2019: (comments in bold)
"CFA Charter-holder, passed all 3 exams on the first attempt" (no one cares)
"Professional working proficiency in Vietnamese" (not even close)
"Leveraged background in finance to lead a cross-functional team that developed machine-learning analytics tools" (dude, STFU)
Humans don't talk like this. Half of this isn't even true!
What is going on?
Canadian sociologist Erving Goffman has the answer: in a book called The Presentation of Self in Every Day Life, Goffman posits that every person goes through life wearing many "masks", like an actor in a theater play.
Most people are different personalities at work vs. home vs. happy hour. People wear these different masks to impress or avoid embarrassment with different audiences.
Back to LinkedIn. It's your online resume and directly tied to your identity.
The setup forces everyone on the site to basically wear the professional "CV mask" of their personality.
Bland. Buzzwords. Inoffensive. A little exaggeration. Self-promotional (but not too much). Desperate to impress.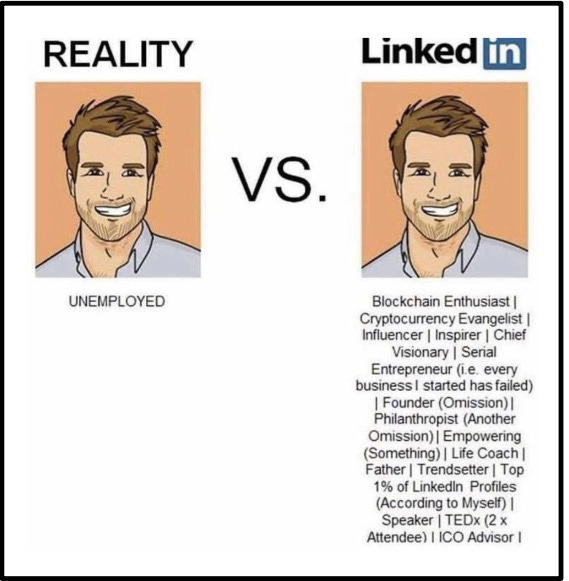 CV Trung if I could grow facial hair (via @StateOfLinkedIn)
As a professional social network, LinkedIn has the cringe built in. The platform also prompts cringey engagement activity like:
Please <click button> to endorse <person> for being good at <skill>
It is <person> one year workversary please <congratulate>
This is not how normal people interact! I've literally never uttered the words "workvesary" out of my mouth (and have no idea what it sounds like).
Case in point:

Whenever someone strays from the "CV Mask" and gives an honest take, it resonates: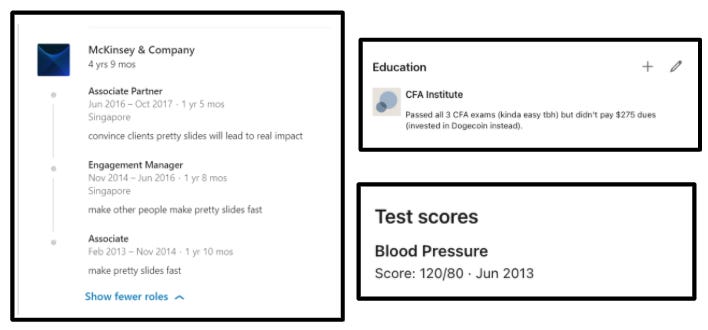 (L to R, clockwise): An honest consultant, my "education" section and Conan O'Brien's very funny "test score"
Having said all that, LinkedIn's mission is to "connect the world's professionals to make them more productive and successful". As we'll see, the site has been able to do that for many of its 800m+ users…cringe or no cringe.
---
MY RESPONSE AND TROLL
I already troll LinkedIn by changing my profile. My college went woke. I am so ashamed of them for what they represent that I changed it to Faber, of Animal House fame. No one noticed, but I don't get any college links anymore, so there is the silver lining.
I decided to engage in the cringe by posting a false invention to detect both that and Sh*t posts. There already is an app that does this, so I made up my own. It's just cringe stuff that is deep in sarcasm for those who troll my page and try to market unwanted advice to me. It's working well as I'm being left alone. I haven't done what my career was for years anyway.
Here's a sample: Helped change the course of the future with the invention of the Revalvitating Capitulator. A vital component in the development and distribution of LinkedIn cringe.
I even used the cringe generator and got this:
And a special shout out to Alex Cohen, who has turned long-form LinkedIn shitposting into an art: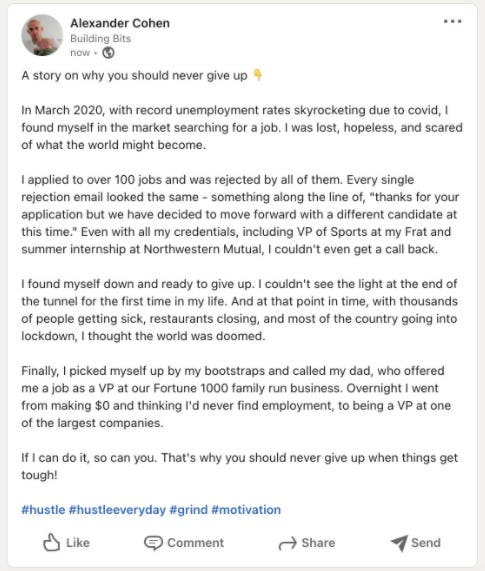 ---
In the end, it's just another social media fail, but at least there is fun in it for those who recognize sarcasm. I troll it now in my profile because it went woke a while ago. I don't even bother posting or liking except to very few people that I had a real connection with in the past.
Like most of Social Media, it's a time suck. Cringe beats woke every time.