During the 2020 Election, Biden warned Americans that it's going to be a "dark winter".
At the final presidential debate, Democratic nominee Joe Biden warned Americans that it's going to be a "dark winter" and said President Trump has "no clear plan" to deal with the continuing coronavirus pandemic.
While it turns out he never had a plan for Covid, Biden is going to deliver on a fuel and food shortage that will make the prediction come true. By waging a war on fossil fuels, it is going to come true, just not about Covid-19.
After being elected and approving the Nord Stream pipeline, Russia had a death grip on the throats of most of Europe. Germany decided to ignore the warnings of the prior president about shutting down their power plants in a Green Washing campaign.
Let's see how the predictions are coming.
First, Covid is pretty much over. Ivermectin worked and the Jab didn't and we didn't have a Covid Winter.
Next, the cold dark winter was really about energy. Tell the story about Climate Change to move money around based on scare tactics.
Unfortunately, they have come through.
German public broadcaster DW News reported a few of the new energy regulations:
Illuminated advertising must be switched off after 10p.m., with only a few exceptions. If advertisements serve traffic safety, they remain switched on, for example, at railroad underpasses. Street lamps also remain on, and store windows may continue to be illuminated.

Monuments and other buildings may no longer be illuminated at night. At least not for purely aesthetic reasons. However, emergency lighting will not be switched off, and illumination is permitted for cultural events and public festivals.

In public buildings, halls and corridors will generally no longer be heated, and the temperature in offices will be limited to a maximum of 19 degrees. In places where heavy physical work is performed, temperatures will be even lower in the future. However, the restrictions do not apply to social facilities such as hospitals, daycare centers, and schools, where higher air temperatures are essential for the "health of the people who spend time there," according to the Economy Ministry.

In 2011, German Chancellor Angela Merkel decided to quit nuclear energy, and run Europe's biggest economy on solar and wind power. "Merkel, her allies say, is ready to lead Germany into an era in which wind and solar energy can replace nuclear plants," The New York Times declared at that time.

Since these renewable energy sources were highly unreliably, Merkel's government decided to plug the gap with Russian natural gas. Berlin invested billions in joint pipeline projects with Moscow, including the now-defunct 760-mile Nord Stream 2 pipeline that ran under the Baltic Sea.

German politicians and media scoffed at every criticism of their dealings with Russia. President Donald Trump was widely mocked in Germany for suggesting that the country was getting fatally dependent on the Kremlin for its energy requirement.

As Russia now shuts down the gas supply, President Trump's words appear almost prophetic. The German weekly Der Spiegel notes: "Europeans, and Germans in particular, risk running out of gas in the winter if supplies through Nord Stream, the pipeline that delivers gas directly from Russia to Germany, don't increase again." With the remaining nuclear power plants going out of commission and no viable substitute to Russian gas, Germany faces a disaster of its own making

From the Gates of Vienna
Next warning from a WEF Young Global Leader: 'Up to ten difficult winters ahead'

Government officials across Europe are warning that a "difficult winter" is ahead. Belgian Prime Minister Alexander De Croo, a Young Global Leader of the World Economic Forum, has stated that not only this winter but also the coming years will be difficult.

"The next five to ten winters will be difficult," said De Croo at port company ICO Terminals in Zeebrugge. "The coming months will be difficult, the coming winters will be difficult. That's what you can expect. Hope for the best, be prepared for the worst."

The year 2030 will dawn in eight "difficult winters". Coincidence?

Following De Croo, French President Emmanuel Macron, also a WEF Young Global Leader and former Rothschild banker, also warned of a difficult winter and other problems ahead. "Perhaps this is the end of an era of plenty," he said ominously.

"Our country is at a turning point. It's going to be a difficult winter," Macron said at his government's first meeting after the summer break. "This could be the end of an era of abundance. From a plethora of technical products that always seemed to be available. Of wealth on land and water."

The Spanish government also warned of bad times. "We don't know what kind of winter is coming. The winter will be very harsh," Defense Minister Margarita Robles said in an interview with the radio station NRE.

GET THIS ONE, GLOBAL COOLING AGAIN
Afterword from the translator:
It's called the "Grand Solar Minimum". The last mini-ice age started roughly 1250 and lasted until 1850 with a few minor warming spells in between. Although I assume that the current and coming crises are staged and staged and staged some more by those fear-porn starlets that are bending over backwards to please their pimps and the fear-porn pusher and addicts of the MSM. The real problem is the world's unbelievably high national debt. Why else was there suddenly "Corona" all over the world? No country can ever repay its debt. The current crises are then ideal for assigning blame, and the result will be a basic income for ordinary people. This will be processed digitally. There will be no more cash and nothing to be made on the side to put food on the table. Then the "Great Reset" is complete and there will only the big corporations left. The small businesses will have been destroyed, and it will be similar to China. This means we are completely at the mercy of the "elites", who have shown that they have NONE.
AND IT GETS WORSE, 10 TIMES WORSE:
With even Zoltan Pozsar warning that Europe faces an apocalypse of sorts now that the Eurussia divorce is complete and energy prices in Europe are hitting fresh daily record highs every single day – just today, German 1Year forward baseload electricity rose above €1000, or 10x where they were a year ago, before easing after European nat gas prices plunged the most since March after Germany said its gas stores are filling up faster than planned ahead of winter…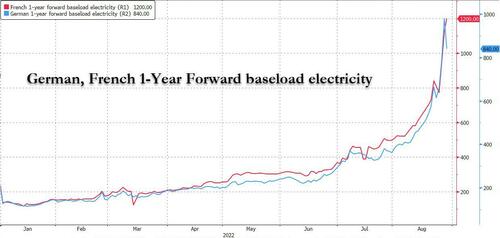 … moments ago the European Union appears to have finally realized that it faces an armed revolt this winter, or worse, when millions face freezing cold without power and heat (see "This Is Beyond Imagination": Polish Homeowners Line Up For Days To Buy Coal Ahead Of Winter"), and announced that it was planning "urgent steps" to push down soaring power prices, Commission President Ursula von der Leyen said on Monday.
"The skyrocketing electricity prices are now exposing, for different reasons, the limitations of our current electricity market design," von der Leyen said in a speech at the Bled Strategic Summit in Slovenia, pointing out what has been obvious for years to those who warned repeatedly that Europe should probably not take make its energy policy based on the idiotic ravings of a self-absorbed, petulant, Scandinavian teenager (Greta T). "It was developed under completely different circumstances and completely different purposes."
RUSSIA CUTTING OFF THE OIL, GREEN FAILS
With Russia squeezing gas deliveries, power-plant outages further sapping supply, while droughts and lack of wind make a mockery of "green" energy sources, the pressure is growing on EU leaders to act quickly or risk social unrest and political upheaval. Czech Prime Minister Petr Fiala is seeking backing for his price-cap plan and plans to discuss possible limits with German Chancellor Olaf Scholz.
"High energy prices are a Europe-wide problem that we need to tackle at European level," Fiala said on his Twitter account. "Ahead of the EU Energy Council we want to find a way to help people and businesses that we can agree on with other European leaders."
Czech officials are proposing to cap prices of natural gas used for power generation, Industry and Trade Minister Jozef Sikela said on Monday.
"We may open the question of emission allowances, as some other member states have done in past, that also present a major part of the total price," Sikela said. "We may open the question of the overall market regulation, total decoupling of the prices," adding that the bloc cannot meddle too much with the market or fuel speculation.
Amusingly, EU member states have already earmarked about 280 billion euros (or roughly the same in USD now that we are at parity) in measures such as tax cuts and subsidies to ease the pain of surging energy prices for businesses and consumers, but the aid risks being dwarfed by the scale of the crisis. In other words, the ECB will be hiking rates even as it has to inject even more liquidity into the market to enable the latest helicopter money stimulus. Governments have also started to limit energy use, banning outside lighting for buildings in Germany and lowering indoor heating temperatures, to meet the EU voluntary target of cutting gas demand by 15%.
On Saturday, Belgian Prime Minister Alexander De Croo warned that the EU can't continue resolving the problem of sky-rocketing energy costs by cutting taxes and called for a price cap instead. Should the bloc fail to reach an agreement, Belgium will consider national measures, he told VTM television.
Summer is over. The winter is coming. So are the elections.
#NBADJT