These are clips from the headlines during Black History Month. It was to document how it was celebrated. I saw a lot of historical stories about those who lead significant lives, so I wondered how it was going currently.
What we were hoping for:
Every moment of greatness in our history belongs to all Americans, because the fruits of those triumphs have blessed all of us.
At the same time, there are both triumphs and tragedies that have been specific to the Black experience. The beautiful resistance against government tyranny that occurred at the Boston Tea Party was largely spurred by the killing of Black U.S. Army soldier Crispus Attucks by the British. Gospel, jazz and blues are beautiful, world unique musical forms that were born out of the Black experience in America. Let us celebrate those and other such triumphs during this month.
Black History Month was first officially recognized in our nation's bicentennial year, 1976, by Republican president Gerald Ford. He encouraged Americans to "seize the opportunity to honor the too-often neglected accomplishments of Black Americans in every area of endeavor throughout our history." Indeed, in that era, those accomplishments were largely unrecognized if not intentionally neglected.
Unfortunately, in the decades since, Black History Month has been co-opted by the Democrat Party's legions of race-bait hate-hustlers, mostly suburban "white privilege" Demos who have enabled the degradation of Martin Luther King's "dream" into a living nightmare.
What started as a good and noble effort to recognize achievements, has been spun into hyphenated-American political fodder. It is now a prop for the Demos' promotion of their "systemic racism" lie. Some leftist race-baiters have even asserted that because Black History Month is February, the shortest month of the year, that is evidence of "systemic racism."
What we got instead:
Here's what happened during the month instead of reaching for greatness, we got this.
2/1 BLM Canada buys an 8 million dollar mansion and no accountability for the money
2/1 Shocking video footage captured the moment a brawl broke out at a Pennsylvania Golden Corral which started after a customer was enraged over the buffet chef serving another man his steak before him.
The Friday night melee had involved more than 40 people at the Bensalem location as chairs were seen being thrown in the middle of the restaurant with onlookers and staff watching in horror as the fight continued to escalate.
2/1 BLM on destroying the family: The activist-driven curriculum for the Week of Action, which kicked off Monday, is based off the 13 "Black Lives Matter Guiding Principles." Those principles include a commitment to restorative justice, being transgender affirming and queer affirming, creating space for black families that is "free from patriarchal practices," and "the disruption of Western nuclear family dynamics and a return to the 'collective village' that takes care of each other."
2/1 James Clyburn, D SC holds Biden hostage for a black female supreme court candidate, forever marking her as a token and opinions will be diminished on any case of race or gender (instead of someone on merit, including black and females because of their merit)
2/2 Whoopi Goldberg makes racist comments about the holocaust on the Spew and gets suspended for 2 weeks
2/2 The national arm of Black Lives Matter (BLM) on Feb. 2 shut down all of its online fundraising streams, shortly after California's Department of Justice threatened to hold the organization to account over its "lack of financial transparency," which includes at least $60 million in undisclosed donations.
2/2 Brian Flores gets fired from the Dolphins and claims racism and victimhood for losing. Update:
The Miami Dolphins have found their new head coach. He is bi-racial so the Dolphins are not racist, they just want a good coach.
The Dolphins announced Sunday night that they've hired former San Francisco 49ers offensive coordinator Mike McDaniel as the franchise's new leader.
As far as the latest chapter in the never-ending story of privileged millionaires claiming victimhood status, Flores doubled down on stupid with his response to the hiring of the black Lovie Smith over his own black self. An insane public statement was released by his legal team that said the following:
"Mr. Flores is happy to hear that the Texans have hired a black head coach, Lovie Smith, as Mr. Flores' goal in bringing his case is to provide real opportunities for black and minority candidates to be considered for coaching and executive positions in the NFL," the statement read. "However, we would be remiss not to mention that Mr. Flores was one of three finalists for the Texans' head coach position, and after a great interview and mutual interest, it is obvious that the only reason Mr. Flores was not selected was his decision to stand against racial inequality across the NFL."
Translation? It was never about race, it was only about ME! No one wants a loser Brian.
2/2 For the first time, the Tennessee Senate on Wednesday voted to expel a senator, stripping Sen. Katrina Robinson of her elected position following her federal conviction on federal wire fraud charges.
2/2 Leon Harris, a former CNN host now working for a TV station in Washington, DC, was allegedly impaired when he tried to leave the scene of an auto crash in Maryland over the weekend, according to reports.
2/1 Miss USA, a black lawyer and having the world at her beckoning, instead jumps from the 30th floor in NY. She was a feminist and claimed victimhood. Neuroticism claimed another victim.
2/2 – Credible sexual assault charges against CNN host Don Lemon
2/2 Don Cornelius,Host of Soul Train exposed for abducting 2 girls at Playboy mansion for 3 days and sexually abusing them with wood bat
2/3 Alabama man beats girlfriend to death, A suspect identified as Cortez Lenard Warren, 32, has been charged in connection with the death of Madison Shea Pilkington, 25, whose family found her body Saturday, AL.com reported.
2/3 State Sen. Katrina Robinson of Memphis was convicted of wire fraud last fall after being accused of stealing $600,000 from a health care school she ran to pay for her wedding and other personal expenses before she was in office.
2/3 Timothy Briggs allegedly squeezed off 10 shots, which flew by a display of children's toys during the wild Jan. 31 shooting. Two teens were injured in a gang related incident at a NYC Mall.
Briggs faces attempted murder and other charges while Jaheim Covington was hit with two counts of weapons possession. Both were ordered held without bail.
2/3 Vice President Kamala Harris continues to hemorrhage staff with the departure of yet another high-ranking member of her team.
Kate Childs Graham, Harris' chief speechwriter, is leaving the vice president's office at the end of the month. Staff are leaving citing abuse and demeaning behavior by the VP.
"People are thrown under the bus from the very top, there are short fuses and it's an abusive environment. It's not a healthy environment and people often feel mistreated. It's not a place where people feel supported but a place where people feel treated like s—," another source told Politico, which cited 22 current and former Harris aides in its report.
2/3 RICHMOND – Black Republican Aijalon Cordoza in the Virginia General Assembly said he was barred from joining the assembly's Black Caucus because he wouldn't tow the liberal line and wasn't a democrat. That's called discrimination.
2/3 ESPN and HBO personality Bomani Jones said bluntly and like a racist would say, that "white people" are the NFL's problem following the Brian Flores lawsuit news. No, instead they fired a losing coach, which is what would happen to any losing coach. We've not heard much about this since.
2/3 No response from black leaders, BLM or any black official to this racist comment by Biden showing how partisan they are, demeaning the whole issue when they cry racism when they let this go by.
President Joe Biden referred to blacks as "colored" during a speech at the National Prayer Breakfast on Thursday during Black History Month. No mention in the mainstream media or by black leaders. I guess that saying isn't a racist word anymore. Certain white people get a free pass.
Biden was telling the story of seeing "colored kids" on a bus when he moved from Scranton, Pa., to Claymont, Dela.
2/3 Black Lives Matter had to shut down all of its online fundraising streams late Wednesday afternoon, just days after California threatened to hold the charity's leaders personally liable over its lack of financial transparency. Taxes haven't been filed since 2020 and most money was collected from blue states over George Floyd's victimhood.
2/4 Criminals across New York City were "emboldened" by the soft-on-crime memo released by Manhattan District Attorney Alvin Bragg in the weeks before the deadly shooting of NYPD Officers Jason Rivera and Wilbert Mora, the leader of a prominent police union. This Soros bought off DA let criminals back on the street and isn't prosecuting crimes starting with shoplifting, drugs and now robberies, so murders now.
"His message was sent to the criminal element. And this is why these cops were shot," Paul DiGiacomo, president of New York City's Detectives' Endowment Association, said during a phone interview Thursday, "because you're sending a message out there that there are no consequences for committing crimes and there are no consequences for resisting arrest."
"Alvin Bragg thought he was doing what was popular to do, and it blew up in his face," DiGiacomo added. Good job DA. Soros paid you off to allow more crime against black victims.
2/4 A UCLA basketball player was arrested in Arizona on Thursday and was facing an assault charge after allegedly spitting on a fan, authorities said.
Barstool Arizona, however, identified the arrested player as UCLA forward Mac Etienne.
2/4 Authorities in Kentucky have already locked up two defendants in connection with the brutal beating of a disabled Marine Corps veteran in June 2020. Now they're trying to locate a woman who they claim is a third suspect in the case.
The at-large suspect, identified as Dairee Brown, 25, is accused of knocking on the victim's apartment door in Covington, Kentucky, and blocking the peephole while her accomplices – Anthony Cornist, 62, and Robert Stone, 40
2/4 Vince Everett Ellison, the author of 25 Lies, explained that Democrats have formed an unholy alliance with The Iron Triangle of Black pastors, organizers, and leaders. They pretend they care about crime but they don't. They always use terror, crime, murder to keep control. It's a mechanism to maintain control.
The left never tries to empower individuals. Instead, they put roadblocks in front of them and force them to rely on Big Government. Mr. Ellison pointed to several lies of Joe Biden.
Ellison blames Blacks for the crime in cities. These ruthless leaders in the city have destroyed the family, the churches, economy, educational system because they want control.
2/4 NYC mayor Eric Adams makes racist statement about whites: "Every day in the police department, I kicked those crackers' a–, man," Adams said in the video reviewed by Fox News Digital. "I was unbelievable in the police department." That is the equivalent of the white N-word. Good job guv. You don't have to be white to be a racist.
2/4 Rapper C Blu was freed on bail last week for allegedly shooting a New York City officer is back behind bars on a probation violation for a prior gun case. Good career move.
2/4 In reading, 628 Patterson High School students took the test. Out of those students, 484 of them, or 77%, tested at an elementary school reading level. That includes 71 high school students who were reading at a kindergarten level and 88 students reading at a first-grade level. Another 45 are reading at a second-grade level. Just 12 students tested at Patterson High School, were reading at grade level, which comes out to just 1.9%. Patterson is 74% black and 7% white. Way to go teachers union.
2/5 While excusing slavery, human rights abuse and murder of Chinese citizens by the CCP, J.A. Adanda the director of sports journalism at Northwestern University's Medill School of Journalism said this on ESPN, "And who are we to criticize China's human rights records when we have ongoing attacks by the agents of the state against unarmed citizens and we've got assaults on the voting rights of our people of color in various states in this country. So sports – I think it is possible and it's necessary more than ever to just shut everything out if you are to enjoy the actual games themselves," Adande told Reali.
2/6 Police in Virginia say the suspect accused of murdering one person and wounding four others in a shooting at a hookah lounge in Blacksburg late Friday night has been arrested.
The suspect, identified as Jamel D. Flint, 24, a black man of Roanoke, was apprehended Saturday following a manhunt,
2/6 A Black Lives Matter organizer in Memphis was sentenced to prison after she was convicted for illegally registering to vote. Pamela Moses, described by some outlets as the founder of a BLM chapter in Memphis, was sentenced to six years in prison last week after she was convicted in November 2021 for illegally registering to vote in Tennessee, according to prosecutors.
2/6 Kamala Harris has a hard time answering a simple question. Staffers say she won't prepare or read briefing materials and then abuses her staff:
"What has gone wrong?": Border Czar Kamala Harris struggles to answer a basic question about Biden's historic border crisis pic.twitter.com/TW9G2D36dL
2/7 Alvin Kamara, the star NFL running back for the New Orleans Saints, was arrested Sunday shortly after playing in the Pro Bowl for his alleged involvement in a brutal beating the previous night inside a Las Vegas club.
Kamara was transported to the Clark County Detention Center, where the 26-year-old was booked for battery resulting in substantial bodily harm, the Las Vegas Metropolitan Police Department said. Police said the alleged victim identified Kamara as the suspect.
2/7 These tweets — with a photo showing Stacey Abrams maskless surrounded by masked children & showing Abrams promoting it from her own account — have now both been removed. (Abrams deleted her own tweet and it appears that the original account has been deactivated or something). pic.twitter.com/qzzAPolsE2
— Jerry Dunleavy (@JerryDunleavy) February 6, 2022
People pointed out: Hypocrisy, cruel to have kids in masks, kids are less likely to catch it, and masks are only supposed to help sick people not spread the virus. Also, the kids are not socially distanced. The social distance aspect is the most important part of not getting sick.
Abrams countered but did not address any of the criticism.
Instead, she used the race card because she knows it was stupid to post the photo.
2/7 A promotional ad from NBCUniversal marking Black History Month, which aired during Monday's Today show, featured left-wing politicians and protesters but ignored Supreme Court Justice Clarence Thomas and South Carolina Senator Tim Scott. The montage did include footage of late California Senator Shirley Chisholm, former President Barack Obama, Vice President Kamala Harris, and scores of Black Lives Matter protesters. Good job of being biased there NBC, as usual.
2/8 OROVILLE, Calif. – A 21-year-old man who was acting erratically opened fire inside a Greyhound bus in Northern California, killing a 43-year-old woman and wounding four others before he was arrested, naked, inside a Walmart after getting into a fight, authorities said.
Asaahdi Coleman started shooting at passengers as they exited the Los Angeles-bound bus after it stopped at a convenience store in the city of Oroville on Wednesday night, Butte County Sheriff Kory Honea said Thursday.
2/8 NASHVILLE, Tenn. (WZTV) — A 32-year-old man is accused of assaulting Williamson County Sheriff's deputies last week during a court hearing.
The sheriff's office says Roger Hathaway, of La Vergne, was in court for a hearing addressing charges from 2020 where he was arrested by Brentwood Police.
2/8 This is something that Black History Month should oppose with everything they've got, but alas, we only hear crickets:
The Biden administration is set to fund the distribution of crack pipes to drug addicts as part of its plan to advance "racial equity."
The $30 million grant program, which closed applications Monday and will begin in May, will provide funds to nonprofits and local governments to help make drug use safer for addicts. Included in the grant, which is overseen by the Department of Health and Human Services, are funds for "smoking kits/supplies." A spokesman for the agency told the Washington Free Beacon that these kits will provide pipes for users to smoke crack cocaine, crystal methamphetamine, and "any illicit substance."
2/8 Former NBA player Ty Lawson has reportedly been arrested in Europe.
According to Marca, the former Denver Nuggets guard and NBA player was recently arrested after he allegedly "insulted and threw glass at a customer at an Italian restaurant" in Madrid. He allegedly caused injuries to his victim.
2/8 Hate Hoax:
Illinois law enforcement announced Friday that Kaliyeha Clark-Mabins, a black female college student, will be charged with three counts of disorderly conduct for filing a false police report.
Kevin Schmoll, the chief of police for Southern Illinois University Edwardsville, made the announcement on Friday. The College Fix had started asking questions about the investigation last week.
2/8 ESPN is racist instead of having hosts on because of talent.
One ESPN reporter talked about some of the backroom conversations of people complaining about too many white hosts.
Another ESPN audio specialist reveals how ESPN wants to be the face of BLM instead of .
2/10 A 9-year-old Alabama girl was charged with assault after allegedly using a broomstick to beat her younger brother, who later died, records show. Court records show that Yolanda Coale, the boy's aunt and legal guardian, told officers she awoke Thursday to the sound of the children screaming. She said she found the girl hitting her brother with a broom stick, causing injuries. Officers called to the home found the boy unresponsive, and Coale, 53, was charged with aggravated child abuse the next day.
2/10 A Texas woman is accused of straddling her mother in what she called a "prayer position," suffocating her in November, authorities said.
Gloria Ann Jordan, 41, of Wichita Falls, was arrested Tuesday and charged with manslaughter, according to Wichita County Jail online booking records.
Jordan is accused of the Nov. 21, 2021, death of Gloria Equila Farmer Jordan, 70, the Star-Telegram of Fort Worth reported. According to her obituary, Gloria Farmer Jordan was a pastor and the mother of Gloria Ann Jordan.
2/9 A man convicted of attempting to set fire to a high school during the Black Lives Matter riots in Minneapolis following the death of George Floyd has been sentenced to five years probation.
Mohamed Hussein Abdi, 20, was handed the probation sentence in a U.S. District Court in St. Paul, Minnesota, Thursday after pleading guilty to conspiracy to commit arson, according to court documents.
2/10 Florida police have arrested a man in alleged connection with the drive-by shooting death of an 8-year-old girl following a raid on the Florida home of TikTok's "Island Boys," FlyySoulja and Kodiyakredd.
Andrew James Thomas, 20, has been charged with first-degree murder with a firearm, attempted first-degree murder with a firearm and being a felon in possession of a firearm, according to the Palm Beach Sheriff's Office.
He allegedly shot and killed Ron'Ziyah Atkins in a drive-by shooting in Belle Glade Friday. She had been playing outside with friends.
2/11 ESPN is blatantly racist, but in a different way:
I always knew many of the hosts at @ESPN were blatantly racist towards their white counterparts – we now have confirmation with #ProjectVeritas leaks.

Hell, ESPN had to fire @jemelehill for being a bigot. Yeah they claimed it was a mutual parting… BS.#ExposeESPN

— 🇺🇸 christopher lee 🇺🇸 (@spicoli_69) February 8, 2022

2/11 A North Carolina man was arrested this week on charges that he sexually assaulted a family member over a three-year period.
William Ray Clark, 52, is facing 380 counts of child sex offenses, including first-degree statutory rape.
2/12 An 18-year-old student was indicted Friday on attempted murder and aggravated assault charges for an Oct. 6 shooting at a Dallas-area high school that wounded two students and a teacher. The Tarrant County grand jury's indictment also accuses Timothy George Simpkins of unlawfully carrying a weapon in a prohibited place at Timberview High School, which is in Arlington but belongs to the school district in neighboring Mansfield.
2/12 Not even basketball is safe from flagrant fouls and poor sportsmanship,
Clemson guard David Collins committed an insanely dirty foul Thursday night during a loss to Duke.
For reasons that I will understand, Collins decided to destroy Duke's Wendell Moore Jr. on the fast break, and the video is tough to stomach.
2/12 Black on Black white collar crime:
Former NFL player Robert McCune will spend several years behind bars.
According to USA Today, the former Browns and Ravens linebacker has been sentenced to five years in prison for his role in a scheme involving several former players that defrauded the National Football League's Player Health Reimbursement Account Plan.
2/13 A New York City man with a lengthy criminal record was arrested and charged Thursday in the brutal November beating of a Thai woman on a subway platform in the city, according to reports.
Kevin Douglas, 40, was charged with second-degree robbery, third-degree robbery and second-degree assault, the New York Police Department said, according to the New York Post.
2/13 A woman in Texas has been arrested and charged with killing her roommate after authorities say she sat on her until she died of suffocation.
According to KAUZ, Gloria Ann Jordan, a fugitive, was arrested and charged with manslaughter for killing her roommate Gloria Farmer last November. Police initially ruled she died from natural causes until a family friend thought otherwise. Authorities reopened an investigation, and it was discovered she was killed by suffocation.
2/14 Bastard of the month so far. How could anyone do this.
A Florida man was arrested Friday after he threw a family's 14-week-old puppy against a wall while babysitting, according to reports.
The suspect, identified as Willie Earl Capehart, 62, was supposed to be watching the puppy and two children at a residence in the St. Petersburg area when the kids heard a loud bang and the sound of a door slamming from another room, according to St. Petersburg police.
2/14 Adrian Peterson, former NFL MVP and current free agent, was arrested Feb. 13 at Los Angeles International Airport (LAX) after an alleged domestic violence incident on board a jet. Way to be a role model.
2/15 A New York City man has been charged with first-degree murder on Monday after police say he followed a woman into her Chinatown apartment where he attacked her and stabbed her more than 40 times.
Assamad Nash, 25, was located by police under his alleged victim's bed in the early morning hours Sunday and was taken into custody, officials said. His alleged victim was identified as Christina Yuna Lee, who was 35.
Nash was charged with first-degree murder, first-degree burglary, and first-degree burglary as a sexually motivated felony. Black on Asian crime, who's racist now?
2/15 Kentucky – The suspect arrested over the attempted assassination of Louisville mayoral candidate Craig Greenberg has been identified as BLM activist, Quintez Brown.
Craig Greenberg, a Democrat Louisville mayoral candidate, was shot at in his office Monday morning in an assassination attempt, police said.
Quintez Brown is a BLM activist and a black nationalist who was championed by Barack Obama and Joy Reid. Obama has divided our country more than unite it.
2/15
TopicsIdentity PoliticsPoliticsUSA
The Black Lives Matter movement has raised billions of dollars over the past several years. But no one seems to know how most of that money has been spent.
On 20 December 2020, The Economist noted that $10.6 billion had been pledged to causes and organisations affiliated with BLM. According to that article and further reporting from the right-leaning Daily Signal, BLM's corporate donors included Amazon, Gatorade, Microsoft, 23andMe and Tinder, while recipients ranged from the small-scale Unicorn Riot guerilla media firm to the sizeable Black Lives Matter Global Network Foundation (BLMGNF).
As far as I can tell, no comprehensive or even partial audit of what happened to this staggering sum of money has ever taken place. Indeed, given the sheer number of corporate and NGO players involved, conducting one would be incredibly difficult. However, taking a look at the experience of just one BLM-affiliated organisation – BLMGNF – could give us an insight into what went on more broadly. The foundation's story is truly remarkable.
Imagine that, stealing money.
2/16 A 9-year-old girl has died in Houston after getting shot during an unrelated robbery when the victim shot at the vehicle she was in with her family in the latest instance of gun violence that has injured or killed children in Texas' largest city in recent weeks.
Tony Earls, was arrested and charged with aggravated assault – serious bodily injury.
You can't just shoot innocent people.
2/16 Both @BarackObama and @JoeBiden knew @HillaryClinton was engaging in these illegal acts to fabricate the Russia Hoax.@JohnBrennan of all people told the former President, and the current one came up with the idea to use an unused, unconstitutional law. The former President is a law breaker instead of a person of honor.
2/16 Fools names like fools faces are often seen in public places: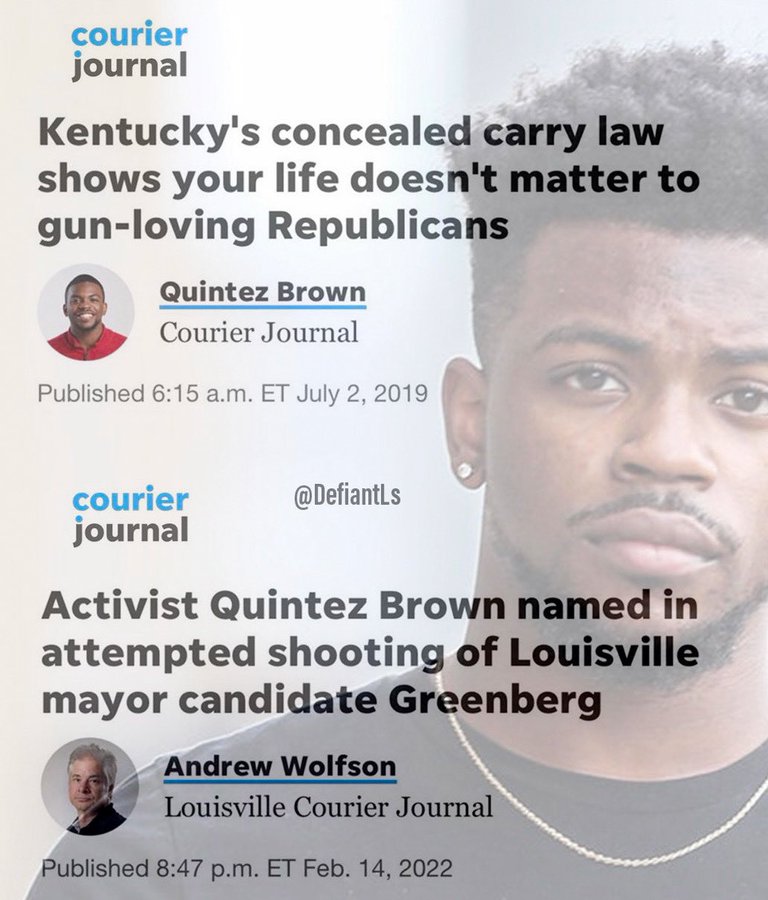 He is a BLM activist supported by Obama. That's 2 strikes in one day for Obama.
2/17 A Florida woman allegedly used coronavirus relief funds from the Paycheck Protection Program to hire a hitman accused of killing a Transportation Security Administration officer outside Miami last year, according to newly unsealed court documents obtained by local media.
Jasmine D. Martinez, 33, is in custody in St. Lucie County on charges of first-degree murder, attempted murder and conspiracy to commit murder, jail records show. She's expected to be transferred to Miami-Dade custody.
2/17 "Real Housewives of Salt Lake City" star Jen Shah vowed to fight the charges against her in court and not in the press.
Shah, 48, is facing multiple counts of conspiracy to commit wire fraud and conspiracy to commit money laundering. If convicted on all charges, she faces a maximum of 50 years in prison.
2/17 Lee's murderer, Assamad Nash, a black career criminal, had multiple court cases in his wake. Instead of being locked up, he followed Christina Lee to her Chinatown apartment and was caught covered in her blood. This latest crime by Nash may be serious enough that Soros DA Alvin Bragg will feel moved to actually prosecute him and ask for actual jail time. Maybe.
Black on Asian racism and crime, again. Why do blacks hate the Asians so much?
2/18 Black leaders on Rap Music:
Instead, it is full of paeans to those who are imitating gang members in jail without belts by wearing their pants low to show their underwear, spew the n-word, who wave wads of cash, and drink fancy cognac at strip clubs.
Some leading Black voices have raised these points in the past.
The controversial Nation of Islam leader, Louis Farrakhan, exercised some influence with rap musicians and held a summit 20 years ago for hip hop entertainers.
Farrakhan spoke of deep regret at seeing rappers "being used by the enemy so that [Black people] will destroy each other."
The late Stanley Crouch, a celebrated music critic, once wrote that rap had turned the image of young Black men into a damaging caricature of a "money-moving, gold chain-wearing, illiteracy-spouting, penis-pulling, sullen, combative buffoons."
Harry Belafonte, the late singer, once described the rappers as "caught in a trick bag because it's a way to make unconscionable sums of money and a way to absent yourself from any sense of moral responsibility."
2/18 Police said Tony D. Earls, 41, was robbed and fired at the vehicle he incorrectly thought the suspect entered. The girl was taken to a hospital and was declared brain-dead, before her family decided to remove her life support, Fox 26 reported.
UPDATE #3: Sadly, the Harris County Institute of Forensic Sciences advised late this afternoon that the nine-year-old girl has been pronounced deceased. #HouNews https://t.co/X9dAEiFqHf

He was let out on bail that day. Why are these criminals allowed back on the street?
2/19 A Las Vegas woman was sentenced to eight to 20 years in prison Friday in the death of a 74-year-old man she shoved out the door of a bus in 2019.
Last month, Cadesha Bishop, 28, pleaded guilty to abuse of an older vulnerable person resulting in substantial bodily harm or death. She had originally been charged with murder, FOX 5 of Las Vegas reported.
All because she asked him to be nice to others. You're really putting a good face on race relations there honey.
2/19 A six-time convicted felon with a pending felony drug case was charged earlier this month with throwing a bag containing $6,300 worth of individually-packaged heroin from a Lexus that belongs to the Chicago Police Department's Chief of Internal Affairs, officials confirmed Wednesday.
Chief Yolanda Talley had loaned her car to her niece and the accused man, Kenneth Miles, is the niece's boyfriend. Cops released Talley's niece and allowed her to drive Talley's car away.
Good job Yolanda. Keep track of everyone else, but let your own get away with crime.
2/19 Another hate hoax, like almost everyone that has happened, it was perpetrated by the same race it demeaned.
Cries of racism and demands for swift and strong justice have all but disappeared after it was revealed that a black student wrote the racist graffiti found at a California high school.
Last week, The Sacramento Bee reported that that the Sacramento City Unified School District was investigating racist graffiti written over a water fountain at C.K. McClatchy High School, noting that the message was a throwback to segregation
No wonder the rest of the world doesn't buy into victimhood.
2/20 With the following in mind, why do blacks keep voting democrat? Is it the promise of free stuff in exchange for votes? Wise up and know you have been played.

2/20 What happens when you believe the media and those who use one race against another to divide people, a power grab tactic: A militant Black Lives Matter supporter arrested last week in the attempted murder of a Democratic mayoral candidate in Louisville once told a local magazine that he believed he was "at war" against perceived systemic racism in the U.S.
Quintez Brown, 21, was charged on Monday after allegedly barging into candidate Craig Greenberg's office in Louisville and firing several shots. He is now under house arrest after a group run by Black Lives Matter posted his $100,000 bond.
2/20
A New York City Police Department (NYPD) spokesman told WNBC that Mbaye who is black, has 40 prior arrests. His record, which dates back to 2009, includes arrests for criminal possession of a weapon, assault, driving while intoxicated, and menacing, sources told the Post.
Additionally, he has 16 misdemeanor convictions on his record, prosecutors said.
"He was walking close to people moving and swinging his arm. I started watching him to see if he'd do anything," Carmen said.
Then, she said, the man swung his arm, hitting 4 year old Angel in the face, causing him to fall backwards onto the pavement.
Hitting kids, good job there. Make your people proud of you.
2/20 One of America's biggest criminals, Hillary Clinton has taken over the BLM money. Blacks will never see that again like Haiti didn't see the relief money the Clinton organization was supposed to manage to help rebuild from a hurricane. They stole it like they'll steal from BLM. Wise up guys. You got 90 million and Patrice only stole a few million for her houses before she got out.
Black Lives Matter filings reveal prominent Democratic lawyer Marc Elias and another longtime ally of former Secretary of State Hillary Clinton have taken on key roles in the charity amid scrutiny over its leadership and finances.
Elias, best known for his funding of British ex-spy Christopher Steele's discredited anti-Trump dossier while he served as Clinton's 2016 campaign general counsel, appears to be representing the Black Lives Matter Global Network Foundation through his recently formed Elias Law Group. BLM's national organization repeatedly lists the Elias firm as one of its addresses and states in its short-year 2020 Form 990 that its books were now in the care of the Elias Law Group.
Get rid of them now, or your money is gone.
2/21 Michigan men's basketball coach Juwan Howard struck a Wisconsin assistant coach during a postgame altercation on Sunday, setting off a fight between the teams that prompted Michigan's athletic director to apologize and will almost certainly result in disciplinary action against Howard.
Way to be a role model Juwan. Good luck with that job.
2/21
SAN DIEGO COUNTY, Calif. – Three suspects were busted in connection to a retail crime ring on Monday. The suspects were accused of stealing thousands of dollars in lingerie items.
The California Highway Patrol recovered 329 lingerie items, valued at more than $16,000. The underwear were allegedly stolen from Victoria's Secret and Pink stores in malls across California.
CHP identified the suspects as 20-year-old Shyonie Davis, of San Francisco; 21-year-old Ahjanae Woods, of Antioch; and 18-year-old Wessaun Johnson, of Antioch. All three were booked into San Diego County jails, according to CHP.
The size of the bra cups told me their names. They were biggun's.
2/21 Public Health Insider reported, "Bike helmets save lives and help prevent serious injuries. A review of several published studies estimates that bike helmets provide a 63-88% reduction in the risk of head and brain injuries for people who ride bikes. As part of the movement to encourage the use of bike helmets, the King County Board of Health passed a law in 1993 requiring anyone riding a bike to wear a helmet.
"However, data presented to the Board of Health has shown racist and discriminatory enforcement. Seattle Police Department data collected and analyzed by Seattle Neighborhood Greenways and the Helmet Law Working Group shows that police disproportionately gave helmet law citations to Black, Indigenous, and People of Color cyclists.
"Their analysis found that Black riders were nearly four times as likely to be cited by police for not wearing a helmet while biking compared to White riders.
Helmets aren't racist. They protect you from head injuries. Don't be a dumbass. They'll give you one for free if you can't afford it. Racists are racist.
2/21 New Orleans Mayor LaToya Cantrell was pictured partying maskless during an indoor Mardi Gras event Friday night, despite reinstating the city's COVID-19 mask mandate for schools and indoor public spaces just weeks ago.
Do as I say, not as I do. Not a good leader there girl. People notice this hypocrisy.
2/22 Progressive leaders have ushered in criminal justice reforms theoretically intended to rectify the imbalance of Black Americans who are arrested, convicted and incarcerated. But in practice, in cities like New York, these reforms have backfired, resulting in a spike in crime, with more Black Americans victimized and incarcerated. Count on democrats to promise blacks free stuff and then continue to ruin black lives and families with policies. They only care about getting black votes and not much else.
2/22 VP Harris embarrasses herself and the country over the Russia/Ukraine dispute:
Many observers were not inspired by Vice President Kamala Harris's trip to Munich over the weekend, arguing her press conference proved she was woefully unprepared to address the geopolitical crisis brewing on Ukraine's border.
Harris traveled to Munich to meet with several European allies in hopes of securing a united front in the event that Russia's Vladimir Putin decides to invade Ukraine. She met with Ukrainian President Volodymyr Zelenskyy and promised "severe" economic sanctions if Russia releases its troops. However, both she and President Biden have said that Putin has already made up his mind on a potential invasion.
"I mean, listen guys, we are talking about the potential for war in Europe," Harris said. "I mean, let's really take a moment to understand the significance of what we're talking about."
Viewers called her remarks "word salad" and concluded she was "perpetually unprepared" for the critical foreign policy moment.
Give her credit for being more coherent than Biden. Although that is like putting whipped cream on a pile of dog shit. Russia invaded a couple of days later.
2/22 After 22 days of embarrassment, GOOD NEWS!
When she was a little girl, Winsome Sears emigrated to America from Jamaica. Years later, she chose to serve in the U.S. Marine Corps because, she says, "America had always been good to my family and me."
Today, Sears is again serving her adopted country, this time as Virginia's lieutenant governor. She made history when she was elected Nov. 2 to become the first black woman to hold that office.
Being where she is, Sears says, she is reminded of the opportunities that America affords, and that she is "an overcomer, " adding that "many black people are overcomers."
"I am here in the former capital of the Confederacy, for goodness sake," she says. "I am second in command. Second in command. I'm a black woman. I am not first-generation American."
2/22
2/22 Two black teenaged boys are in custody in connection to a triple murder after a five-year-old Michigan boy was killed execution-style inside his Detroit home along with his mother and her boyfriend.
Caleb Harris, who had been shot multiple times in the face, was found Sunday inside the home along with his mother, Lashon Marshall, 28, and her boyfriend, Aaron Benson, 32, according to Detroit Police. Police wouldn't say how Marshall and Benson might have been killed.
Black lives matter? It doesn't seem that way.
2/22 The alleged leader of a Philadelphia carjacking ring tied to two murders was arrested last week and could be linked to other incidents, authorities said Tuesday.
Jonathan Akubu, 28, was taken into custody Friday following a weeks-long crime spree, officials said. He is now charged with arson, conspiracy to commit carjacking, aggravated assault and with the Feb. 6 murder of George Briscella, a Marine Corps veteran and the son of a Philadelphia police officer, and the Feb. 12 killing of Aiah Gbessay.
Every day it's the same story. Crime and a lack of morals. Where are the black leaders except to play victims to extort money in the name of racism?
2/23 Three commissioners were overwhelmingly re-called because of a racist agenda that even SF couldn't get behind. People are getting tired of woke and racism.
Parents and residents in San Francisco voted to recall the three left-wing members last week, as The Daily Wire reported. Citizens launched the effort targeting President Gabriela López, Vice President Faauuga Moliga, and Commissioner Alison Collins last month alleging the members were not focusing on schools reopening during COVID-19 and sought to rename 44 schools based on politics.
They are whining of victimhood because they didn't get their way. No one likes false victimhood either. Crying racism at every time you don't get your way is running out of steam, like crying wolf.
2/23 Zac Stacy has been charged with three counts of misdemeanor domestic violence battery and two counts of misdemeanor criminal mischief in connection with an alleged 2021 attack on his ex-girlfriend.
An NFL athlete beating the hell out of a girl. You're a real man there Zac. Enjoy jail. You did it in front of the kids so way to be a stand up Dad also, asshole.
2/23 The day after Kamala Harris went to the Ukraine to resolve the dispute with Russia, Putin attacked. She was shrugged off like a fly on a horses ass. Putin barely recognized that she exists. No one has been more insignificant as she is as a VP, having already failed the country with the southern border debacle. Nice goin' girl.
2/25 Two of the co-founders of cryptocurrency derivatives exchange BitMEX have pleaded guilty to violating U.S. anti-money-laundering law and agreed to each pay a $10 million fine.
Arthur Hayes and Benjamin Delo admitted to violating the Bank Secrecy Act's anti-money-laundering provisions during a hearing Thursday in New York federal court. Both men entered the pleas after reaching agreements with prosecutors.
2/25 In an affirmative action motivated hire, instead of considering the best talent which would include a black man, President Joe Biden planned to nominate federal appellate judge Ketanji Brown Jackson to become the first Black woman to serve on the U.S. Supreme Court, a source familiar told Reuters on Friday.
Were he to promote only a white woman, this would be the discrimination as his current pick is. She will forever be tainted in cases that involve either gender or race as the pick is discriminatory. It is a shame for black women to be branded with this scarlet letter.
"Judge Jackson's record of reversals by the left-leaning D.C. Circuit is troubling for anyone concerned about the rule of law," Judicial Crisis Network president Carrie Severino told Fox News Digital on Tuesday. "For example, in Make the Road New York v. Wolf, a D.C. Circuit panel composed of a majority of Democratic nominees concluded that Jackson had set aside a Trump administration rule where there was no legal basis to do so."
"Cases like these suggest that Jackson might be willing in politically charged cases to ignore the law to deliver a particular policy outcome, and that's not what we want to see from a Supreme Court justice," she continued.
2/25 Darth Stupid Lloyd Austin said this:
Earlier in a report from the Washington Examiner, yesterday, SecDef Lloyd Austin told lawmakers that "the Biden administration is looking for ways to help train Ukrainian forces remotely." This isn't a joke. This was something said by a member of the Biden Administration. As Russian forces roll over Ukraine, Biden and Austin want to train the Ukrainian forces remotely.
The man is unqualified to be anything but being in the Washington deep state system. He is an embarrassment to black politicians for being an uncle Tom to the Biden administration.
2/26 At least 23 of America's 25 most prestigious medical colleges and universities have some form of mandatory student training or coursework on ideas related to critical race theory (CRT), according to CriticalRace.org, which monitors CRT curricula and training in higher education.
"The racialization of medical school education is troubling. It's one thing to recognize the health needs of different populations, it's entirely different to inject racial politics into medical care. Demanding that medical school students become activists is dangerous," William Jacobson told Fox News Digital.
2/26 The time that has elapsed since the launch of the left's racial witch hunt has provided ample opportunity to expose the malicious, self-serving criminal agendas of the Black Lives Matter movement. These have nothing to do with the welfare of black communities, which have not received a penny of the tens of millions of dollars raised in their name. Contributions to Black Lives Matter have gone to line the pockets and enhance the real estate portfolios of its leaders. Meanwhile, the chief victims of the homicides unleashed by their actions have been poor black inner-city communities — with no show of concern by Black Lives Matter and its allies.
2/27 – Green anti-racism, seriously (Oh, really just CRT lies)?
But it doesn't have to actually make sense for it to be rhetorically effective. The Left has learned that whenever you have a problem, you call it racist.
And whenever you want something to appear ideal, you say it's 'eco-friendly'.
So green anti-racism is logically where you should end up if youre pretending to care about these marginalized groups and their living spaces (although this does smack as a very heteronormative idea to my cisgender ear since there's no mention of "Ecosexuality").
Even if we made a genuinely good-faith attempt at extrapolating some vague meaning from the concept of 'environmental racism', you have to ignore large swathes of reality to get there.
Let's pretend that environmental problems disproportionately affect marginalized communities and this is a serious source of harm…Are these theorists saying it's entirely purposeful? Are there white male uber-capitalists sipping brandy and pushing toxic waste playing chips across the Risk board to 'racialized' neighborhoods?
This is exactly the assertion and is a direct outgrowth of CRT. As Critical Race skeptic James Lindsay accurately points out: "CRT is the belief system that racism which benefits white people is the fundamental organizing principle of society".
2/27 Loud proponent for inequality, the poor and downtrodden Meghan Markle donned a custom Christopher John Rogers dress worth an estimated $2,600 adorned with $9,000 in jewels, (and a $348,000 engagement ring) as she stood alongside husband Prince Harry on Saturday night to accepted the President's Award at the NAACP Image Awards.
This drips with hypocrisy, oh well.
2/28 Still failing as a leader, Obama said this to Romney in 2012. It may have been the only thing Romney got right, but it shows how wrong Obama was with respect to vision and leadership.
2/28 CRT exposes as just Marxism in a thinly veiled cover to have racism switch sides against non POC.
In Race Marxism, James Lindsay carefully and with robust scholarship shows how Critical Race Theory is nothing more than repackaged Marxism. As practitioners of Marxism have failed to divide this country against each other by class, they have turned to racial division to enact their agenda as well as to gain power and influence.
With precision that highlights his math background, Lindsay deftly demonstrates that Critical Race Theory = Race Marxism.
Though the six chapters of Race Marxism, Lindsay explains what Critical Race Theory is, where it comes from, how it is implemented, and what can be done about it once it is understood to be repackaged Marxism. Lindsay offers a broad spectrum of quotes and background information supplied from proponents and Critical Race Theory activists.
(1) Calling everything one wants to control "racist" until it is fully under your control.
(2) A Marxian conflict theory of race; i.e., Race Marxism
(3) A belief that racism created by white people for their own benefit is the fundamental organizing principle of society
2/28
Another Memphis rapper has been shot and killed … just in the last few months. All meaningless deaths that could have been avoided.
Snootie Wild succumbed to his injuries after being shot Friday in Houston. His death was announced Saturday night on his Instagram page … "Gone in body, but your NAME & LEGACY will live forever! #TeamYayo4Life."
2/28 In a blatant example of how Biden takes the black vote for granted and used it as a political chess piece:
Joe Biden is now smearing Republicans from his presidential podium with an ugly falsehood, saying that Republicans are trying to prevent black votes from even counting:
Biden claims Republicans are trying to ban black votes "from even counting" pic.twitter.com/hTDb5YiyzJ

— Tom Elliott (@tomselliott) February 28, 2022
This is another one of Biden's despicable race-baiting lies and he did it at a Black History Month celebration.
There's no truth to this claim whatsoever and everyone knows it. But the media will let him get away with this garbage because they want to defeat Republicans, despite one brave CNN host debunking his lies earlier this year.