Before I get to the crux of this discussion, let me ask the question of why are the powers that be (TPTB) putting so much emphasis on being inoculated? There are well documented less invasive cures for Covid readily available.
It is beyond belief that instead of curing us instead are forcing the vaccine story down our throats, all while the Hippocratic oath says do no harm. If we held to that oath, we would be using Ivermectin or HCQ to prevent or cure people with Covid. It's proven to work, but not politically correct or to the plan, so I call bullshit.
Look below to the graphene oxide discussion. It is poisonous to humans, yet is part of the delivery method for the jab.
HERE IS THE REASON
In doing research on the Covid-19 vaccine ingredients, I came across this interesting topic, it can be used as a bio-weapon. To say that it is controversial is an understatement. I expect blow back from this and/or some censorship. Remember, this someone else's data, I'm just interested.
I've already been stalked by China for posting things calling out them creating Trans-humans, creating super soldiers, calling Covid the China/Wuhan virus and a number of posts I've written. FWIW, Trans-humanism is about immortality, something that money can't buy.
I encourage everyone to believe what they want, but at least be informed. This is research on an issue of the bigger picture. I'm issuing a challenge for you to not trust what you are being told and think bigger to protect yourself. I am connecting facts that are available to form a pattern of what goes on behind the scenes.
DON'T TRUST THE MEDIA
It is important to not trust anything the media is saying. If you've read any of my past, I worked with them for decades and got them to write or not write almost anything as needed. They are tools, or useful idiots of those in power. They are just the propaganda arm of the government and are in lockstep with TPTB. Many of them, like congress are being paid off (go do your own research, don't trust me on this other than I have more experience with them than most).
Further, if you read in About Me above, you can see that I've worked with Bill Gates, Eric Schmidt and other technology so called leaders. 2 paragraphs down is why this is important. I know these people's motives and they are not in anyone's best interest other than their own.
If you look in About, you see that I have few talents, but can put facts together to see long term patterns. That is what this post is about.
I want to note that these people have more money than they can ever spend. What they do is about power now when you can't outspend your wealth. They've admitted it to me to me. What they do and are planning to do is with complete disregard to the welfare of others, that's you.
THE SIDE SHOW
When you want to hide something, you use a side show tactical coverup masked as their foundations that do some philanthropy, but their track record is starting to come through and they will be exposed. Some will see it earlier than others. I'm pointing it out now. There will never be enough good for the evil that they have and are doing.
It's out there what they did in India and Africa to unsuspecting people. I'm pointing out patterns in advance. I'll be dead before this happens so judge for yourself, but it is slight of hand. Act like you are helping while you do your will in the background as others are distracted. They pretend to do good (and do in some cases) but they are for themselves, not you or me.
It's how Congress passes everything bad for us. They create a controversy for the media to cover as they pass bills to fuck us over in the dead of night.
CONNECTING PEOPLE TO THE INTERNET VIA AI AND HOW THE "VACCINE" IS BUT A STEP
Here is the scene from Lawnmower Man where he integrates himself into the internet. It is the set up to the discussion of the title topic.
THE COVID INOCULATION (NOT VACCINE) – AND WHY GRAHPENE OXIDE
There are a lot of things in the formula they call the vaccine. It is proprietary so we'll never know exactly what it is comprised of, but for this discussion they deal with Graphene Oxide. It is not listed in the patent because as Gates describes it, this is a trade secret, but is the key to what is going on. It is 4000 times stronger than than titanium and withstand 1700 degrees of heat. It is part of the delivery method.
Ex-Pfizer officials (examples documented below) who worked on it have come out and described it's use, but it is a component that can be electrically charged. Here is the scientific explanation of what I speak of, but right below it is a quicker understanding that is called out in the video.
At about minute 14, it addresses the evil and depravity of those trying to promote the jab. If you tie it into the human nature I've called out and start connecting the facts, you begin to build the pattern. The trend was always there.
Here is the documentation from ex-Pfizer employee Karen Kingston on the lipids.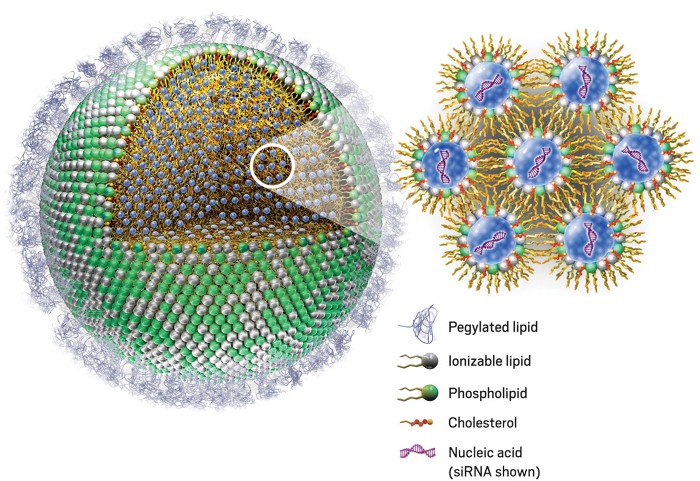 When I read this information, I didn't know a woman could cry as hard as I cried. … These are bio-weapons.

— Karen Kingston
According to Karen Kingston, a former Pfizer employee, graphene oxide is in the vaccines but not listed directly on the patents because its use is a trade secret. It is the main ingredient in hydrogel. Karen Kingston claims that the "Pegylated lipid" in the above illustration contains graphene oxide. It is made by SINOPEG in China. Lipids in the patent are listed on SINOPEG's site.
The graphene oxide molecules can hold a charge. The ones used in the vaccines are supposed to be neutral. The potential exists that these graphene oxide molecules could become charge later. Graphene oxide is also capable of hosting a magnetic field. So even if the graphene oxide is not magnetic when injected, the possibility exists that it could become magnetically charged later. Graphene oxide in the charged state is toxic and can destroy whatever it comes in contact with. Graphene oxide has the potential to connect to the internet.
While neutral at the initial injection, the follow on booster shots put more and more into your system. It is poisonous to humans and if charged, it can be used to kill, transform or in this discussion or alter people's DNA to become electrically charged. It is the lipid that helps create the AI interface as prescribed by Gates and Musk.
——> Back to me sniping now
The fact that SINOPEG (see screenshot below) is Chinese should be the red flag here. They have disregarded human or other nations rights and who doesn't believe that they are responsible for Covid to begin with?
Here is a screenshot from the SINOPEG website stating its' electrical capabilities.
HYPOTHESIS
When there is enough graphene oxide and other poisons in the vaccine accumulate (watch for boosters that just keep pumping this shit into your system), it can be electrically charged for numerous reasons. One is death, but to my point, you can control the masses to do what you want them to. Connect them to the internet and you have an Army of Lawnmower men.
Right on cue and before I wrote most of this, today in the news is the call for a 3rd jab.
(Excerpt:)
The Biden administration is expected to call for a third Covid-19 shot for Americans who were fully vaccinated with the two-shot regimen, citing the threat from the highly contagious Delta variant and heightened concerns over data showing initial immunity wanes over time.
The announcement on Wednesday is likely to cover the more than 155 million people in the U.S. who have been fully vaccinated with messenger RNA vaccines from Pfizer Inc. and partner BioNTech SE or from Moderna Inc., according to people familiar with the planning. The booster shot would be administered about eight months after the second dose of the vaccine.
The delivery method or may be a derivative of the internet that delivers the electromagnetic charge, but remember the goal above of control after you have enough money, you rule the world.
THE RESULT
Charging it will be catastrophically a failure at first, but at what cost? The death of millions to the vaccine, not Covid. Since the most vulnerable, the elderly are the first to get boosters, they die first.
For now, people are just being tested as to how much of the graphene oxide that we can tolerate. Booster after booster loads more into your body.
Later, when and if/when it is modified to work, connecting and controlling people is easy. What is happening now is just step one in the process.
—–> HERE IT IS FOLKS: The ability to control people has been the goal of those who can't control their hunger for power beginning in their playpen, to the leaders of the world since Eve ate the apple.
Michael Yeadon, former VP of Pfizer states this:
"I am fervently against unsafe medicines or medicines used in an inappropriate context. And so some of the things I am going to say are not favorable to the current crop of gene-based vaccines, and it's for that reason that they are being inappropriately used, and I don't think they have sufficient safety profiles to be used as a sort of wide-spectrum public health prophylactic."
With his extensive background in biotechnology and the pharmaceutical industry, Yeadon is quick to point out that he is "pro new medical entities that treat unmet needs and do so safely," regardless of whether it is a vaccine, a biological (like an antibody), or small molecule therapeutic, which is a pill or a tablet. Likewise, he is emphatically against unsafe medicines, regardless of the format (like the Pfizer inoculation he is familiar with).
He points out that the inoculation hasn't been tested and isn't necessary as there are cures (as I stated above). At about minute 7, he states how Covid can be cured and that only those near end of life should be jabbed.
CONCLUSION
I'm not telling anyone to get jabbed or not. I don't care as it is your choice. I may or may not already have had it, but that is irrelevant to this and is a historical event by now. I believe it does help protect those with a comorbidity and has both saved and cost lives already, so there.
Your mileage may vary on this. It is a point of view that is VERY future oriented and for as much as I have put here, there are likely terabytes of information being hidden from us. As they said in Watergate, follow the money, which in this case is power and control.
What I am doing is tying together known motives of human nature, past performances of those behind this ridiculous push to get everyone jabbed and what technology can do. This is the pattern.
I am not a conspiracy theorist regardless of how this sounds, which is why I encourage you to do your own research. I mean for this to be thought provoking as you consider your health. I don't care if I'm hated or ignored because this is from the people who invented the jab. I'm pointing out that what we are being told is not the truth about either the China Covid virus, or the jabs that are being so over promoted that anyone with a high double digit IQ should question why.
My point is that the people behind this are evil and should be called to the mat on this. Think ahead and don't be a sheeple.
As yourself why is the pressure to get the jab so coordinated when Covid can be cured?
SOURCES
Sources used above and accreditation to the source: