I'm going to piss some people off here, sorry but not sorry. I'll go back to humor and sarcasm soon enough.
The USA has egg on it's face over Afghanistan. We now look weak. No one is afraid of the strongest world power who should protect the world. We can't protect anything now, and global tyrants now can start their plunder.
WHAT IS WAR
First, it's not pretty. War is about killing people and blowing up things to stop the evil goals of power and control. If you don't believe me, look what the Taliban are doing right now (they include raping though). There is too much history to ignore it. You win by unconditional surrender, or you waste time and money, accomplishing nothing.
You either fight to win (WWII) or chase your tail. Vietnam was won until we pulled out. Never forget Saigon. The Tet offensive was a success and the Viet Cong were all but defeated, yet we pulled out and an untold number of South Vietnamese were slaughtered. Guess what is going to happen to the Afghan's soon, especially women?
The hostages in Iran could have only been held for 4 hours or 4 days, not 444 days if we had any guts.
Wars are won by those on the ground (figuratively and actually) who see the situation, take action and be decisive.
CONGRESS, THE CULPRIT
Congress took control because they are power hungry, or afraid of not gaining more and passed useless regulations hamstringing the troops from being able to execute.
The dumbest thing I every heard was them saying we need to win/secure the outcome. Who the hell knows what the outcome of a fight is until it is fought?
It is the get principle. Get in, get it (victory) and get out. You win or you don't.
They each blame the other side (R's and D's) so they can put into place restrictions on being able to win a war (taking control out of the hands of the soldiers). Pilots have the enemy in sight, but have to call in whether they can take the shot. The assholes in Washington don't want to look bad with any collateral damage to their re-election, or upsetting a Mullah who wants to kill us anyway. Those bastards don't hesitate and rape, murder, cut off heads and will wait for centuries to win when they know the opposition is weak. Ever hear of death to America or that we are the great Satan?
If congress would have given the power to win back to the military, this didn't have to happen. They used Abu Ghraib to take power and we got Benghazi and now Afghanistan as a result.
The other reason congress wants an unwinnable war is to divide the nation and create an endless bank for them to spend.
They have reduced fighting to win to wheel spinning and appearances.
Recently, ISIS was all but eliminated when we were allowed to actually fight to win. There is an example of how it works.
Congress never understood the tribalism or the reality in Afghanistan. It cost the USSR and now the US(S)A trillions, for nothing gained. The Taliban now has control. They hate the Western world and it's a base for the next wave of terrorism. Where do you think 9/11 was hatched?
MORE INTERESTED IN BEING WOKE
China must be laughing at us now, with General Mark Milley as Chairman of the Joint Chiefs of Staff more concerned with CRT, the alphabet soup of LGBTWXYZ (I can't keep up with the changes to this) and anything other than actually putting a fighting force together that can win.
We've shown (ask the soldiers) that there is no color problem, especially when you are being shot at. You want to have the best soldier beside you and be able to trust his ass that he'll save yours.
Guess who is going to suffer the most? Afghan women. Where is Megan Rapinoe standing up for women now? Instead, she's demanding more money for playing a kids game.
Or this loser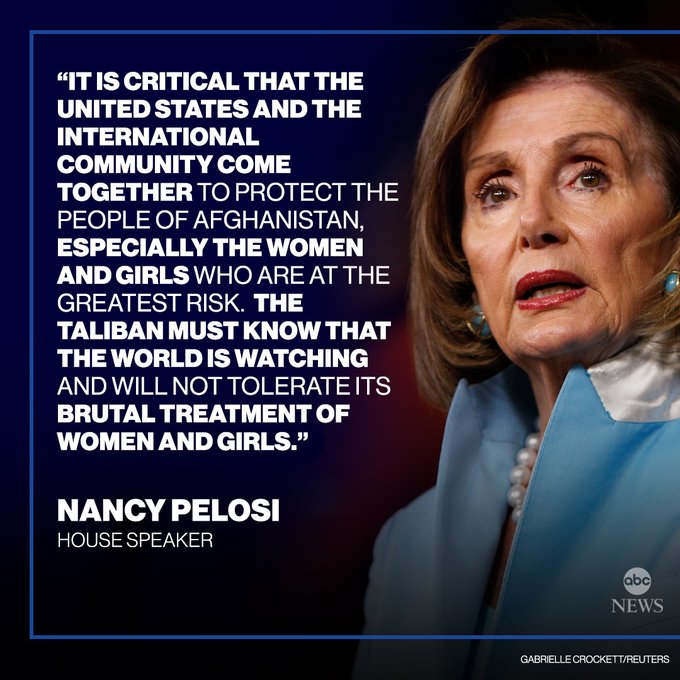 WHO'S NEXT
Look out Taiwan, you are next. Xi isn't afraid of us doing anything now that he has bought off congress and know we won't act. Putin has Hunter Biden's laptop as blackmail to stop Biden from doing anything (ok, my speculation but think about it).
Don't believe me? Look at Hong Kong being steamrolled into oblivion. They are being assimilated by the Borg that is China.
Are we doing anything about the island building in the South China Sea? No, it's a military expansion while we twiddle our thumbs.
Japan is next. They have been pacifists since WWII and depend on the USA to protect them (like Taiwan). I hope they take a lesson from this and start arming themselves.
NO END IN SIGHT.
Congressmen and Senators have one main goal, to get re-elected. They don't care about the country anymore and will sellout anyone for this goal. That's you and me, the military, Taiwan, Japan, Europe and anyone who gets in their way.
Have they ever given up power once they voted it to themselves? Look at history to find the answer is no.
CAN WE GET OUT OF THIS
Where we stand today, the answer is no. The commander in chief is Congress, not the president. We need a leader, something I'm not sure we've had in a while. The last time we won on the world stage was when Reagan defeated the Soviet Union, without a shot fired.
The world was afraid of what Trump was going to do because he was unpredictable. That didn't make him a great C-I-C, but there was a deal negotiated to not abandon all our equipment to terrorists. They now have the best US technology to use against us. I don't know that I agree with either Trump or Biden about leaving. Neither wanted to win, but that doesn't matter now.
Take power away from Congress and give it back to the military. Give us real leaders and soldiers. Quit worrying if we look the right way to some minuscule section of the population that dominates social media and develop a fighting force that doesn't have to worry which bathroom to use.